Pipes & Drum at the King County Arts Council Offices in Seattle
Dwayne & I produced a Nae Regrets-lite performance for Tina today at the King County Arts Council offices in downtown Seattle.  Amid their holiday celebration Tina requested a pipe & drum performance for her birthday — surprising her office-mates!
With few of her coworkers aware of our coming, we snuck in — through the front door, of course.  We started our performance half-way up the stairs to the second level of their offices with a rousing round of our Brown-haired Maiden set ending at the top of the stairs in the center of the surprised party.  We then rounded out our set debuting a jig-combo, a tune relative to the Harry Potter series, and finished with a bit of Queen's "We Will Rock You" & the tried-and-true Scotland The Brave.
After our performance we found that there are a great group of people operating the King County Arts Council.  They received us well and we hope to play for them again!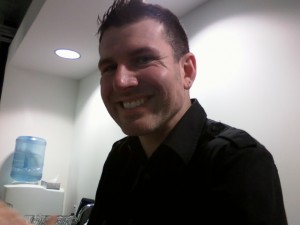 Dwayne
Hiding out in their break-room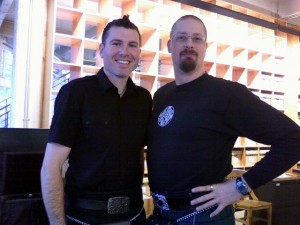 Dwayne & Don
Just your typical kilted office workers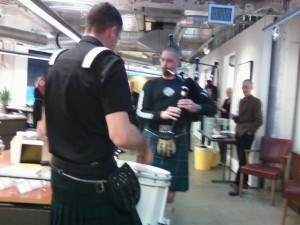 SURPRISE!
There's loud music in your office…
I think this is the first time Nae Regrets has performed in an office.
…and I reckon it was the first time bagpipes & a drum were used to rock-out in this office, too.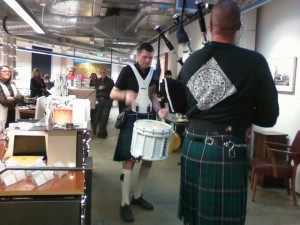 Big finish — BIG FINISH!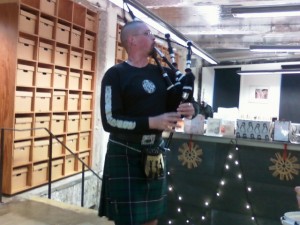 EGADS BagpiperDon, what's that fuzz on your face?!?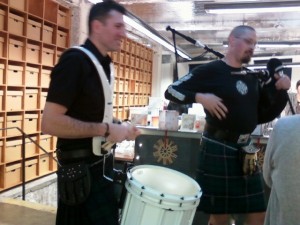 GOOD NIGHT SEATTLE!!!
…er, KING COUNTY ARTS COUNCIL!!!