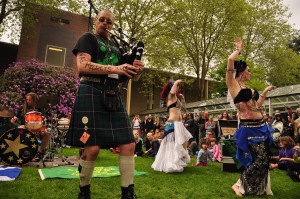 Nae Regrets has made it's triumphant return to Northwest Folklife 2014 — after 2 years of being away, we'rrrreee baaaa-aacckk!  Our shows have been going well — we've been gaining new fans and reconnecting with our tried & true fans.  We've also been getting rained on … and pipes don't work so well when they're wet.
Today we had our traditional Big Blow Out Show.  We were joined by one of our consummate trooper bellydancers, Deidra, and met a new-to-us dancer, Rebecca.  Both ladies were great and the show went well.  Early this weekend NWFolklife planners were talking about putting us back on a stage if we return for 2015.
In the evenings I've been workin' on the railroad … er, I mean, working on our new webpage.  My initial tweaks went well, everything since has gone … well, elsewhere … but then — as the saying goes — "I'm hardware".  I've put a note into our web-mistress that I'm screwing up her work, or at least screwing up something with this site, and she'll take a stab at it as soon as she can.
In the mean time … we have ONE MORE DAY OF FOLKLIFE!!!  So … come out and see us.
(Psst!  What's after that?  We're working on lining up some shows around the 4th of July.)