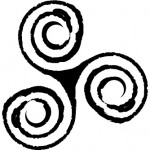 Welcome to Nae Regrets' merchandise page. Orders placed through NaeRegrets.com are handled via our e-mail address. All orders are subject to a minimum $5 shipping fee and will be handled as soon as possible; all payments accepted through PayPal … but on occasion, if you ask real nice, we'll take a money-order or personal check.
---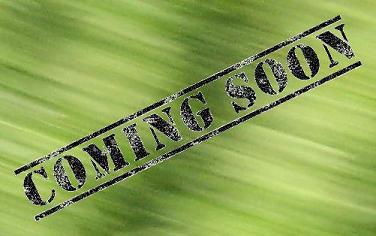 Nae Regrets ~ Widdendream
Release Goal – 2014
UPDATE 2018 …. yeah, well, we've been busy … obviously.
---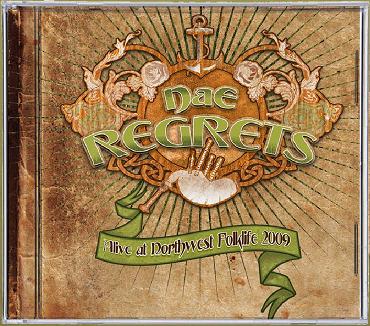 Nae Regrets ~ Alive at Northwest Folklife 2009 – $10
Released – Memorial Day Weekend 2010 at Northwest Folklife Festival
Nae Regrets had another great weekend of playing at Northwest Folklife Festival in Seattle over Memorial Day Weekend 2009. Some of our performances were captured live and are available to you on this album!  Copies can be ordered through BagpipeDiscs.com or purchased directly from Nae Regrets' BagpiperDon.  If you would like an autographed copy, please e-mail Nae Regrets for details.  In time we aim to also have this album available through various MP3 download services for those who prefer to forgo tangible albums.
---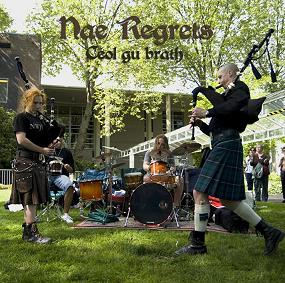 Nae Regrets ~ Ceòl gu Brath
Released – 22May2009
Re-Release – To Be Re-Relased as Bonous Material on Widdendream
Nae Regrets' first professionally manufactured album! Highland bagpipes paired with high-quality electronic percussion samples and effects, making for a very modern and imaginative mood. The re-release of this album is slated to include 6-8 tracks added to the original EP album.
---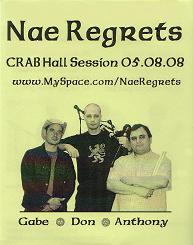 Nae Regrets ~ CRAB Hall Session 05.08.08 – $5
Release Date – 24May2008
The first release of Nae Regrets' Celtic-rock/fusion Highland bagpipe/drum kit/etc music.  Recorded live in a super-secret location in Seattle … okay, so actually it was after-hours in the hallway of a business office, hence the "hall" part of the name.  Proudly labeled with a Sharpie and hand-packaged by BagpiperDon along with 6 friends for 5 hours in Ballard on an evening just before its release at Northwest Folklife 2008.
---
BagpiperDon Jams With Percussion ~ multiple CDs available – $5 each
Release Date – CDs recorded & released Summer 2004 through Spring 2007
In advance of Nae Regrets, our lead Highland bagpiper — Don — frequently played jam sessions with percussionists between Summer 2004 through Spring 2007. These Celtic/percussion sessions, similar to when Nae Regrets performs, were recorded live and later produced into home-manufactured CDs by the different contributors, usually titled under the group-name of The Bag'n'Pipe Hoppers. For information about the various discs, click here. Some deals available for orders of this material consisting of multiple CDs — quantities limited.
---
Clothing
Shirts 'n' stuff – COMING SOON!
Other Stuff
You Need MORE STUFF! – Check back soon…